15 febbraio 2021 Roberto Puzzanghera 0 commenti
Those who are still using the Dovecot's vpopmail auth driver should consider a migration to the sql driver, as on January 4, 2021 dovecot-2.3.13 was released and the vpopmail auth driver removed (more info here).
Adding vpopmail's aliasdomains to MySQL
As some commentators have already pointed out, switching to dovecot's sql auth can be painful if one have domain aliases. I will show below how to make dovecot aware of the vpopmail's aliasdomains, so that a user who tries to login with a domain alias can pass the authentication.
The idea is to save the pairs alias/domain in a new "aliasdomains" MySQL table and modify the dovecot's sql query in order to select the user's domain from this table in case the domain is an alias or from the vpopmail table otherwise. For example:
MariaDB [vpopmail]> SELECT * FROM aliasdomains; 
+----------------------+----------------------+ 
| alias                | domain               | 
+----------------------+----------------------+ 
| alias.net            | domain.net           | 
+----------------------+----------------------+
A vpopmail sql-aliasdomains patch will transparently do the sql stuff when creating/deleting the alias in the usual way by means of the vaddaliasdomain/vdeldomain vpopmail's programs.
NB: if you are testing this solution, I would be glad if you give me a feedback by means of a comment below, so that I can speed up its introduction in the installation guide.
Changelog
February 15, 2021
- fix in the configure file. An autoreconf is needed as I modified the configure.in and Makefile.am files
February 10, 2021
- a C program vsavealiasdomains can now save all the existing domain aliases to MySQL. It can be useful in case of migrations to the dovecot's sql auth driver.
Feb 5, 2021
- The patch has been improved: the sql-aliasdomains stuff is now done by means of the vpopmail's C programs and functions.
Feb 3, 2021
- new patch and script released. Just configure --enable-sql-aliasdomains (default) and forget. The dbtable will be created the first time you will create an aliasdomain.
Jan 18, 2021
- now everything is inside a vpopmail patch. The aliasdomain sql records will be created/deleted transparently when using vaddaliasdomain/vdeldomain in the usual way, provided that you have created the aliasdomains dbtable
Jan 17, 2021
- I modified the dovecot's sql query so that a pair real_domain/real_domain is not needed anymore in the dbtable
Jan 13, 2021
- added support for sql aliasdomains
30 ottobre 2020 Roberto Puzzanghera 0 commenti
Maggiori informazioni qui
clamav-unofficial-sigs fornisce un modo semplice di scaricare, testare e aggiornare database verificati di terze parti forniti da Sanesecurity, FOXHOLE, OITC, Scamnailer, BOFHLAND, CRDF, Porcupine, Securiteinfo, MalwarePatrol, Yara-Rules Project, urlhaus, etc. Lo script genera e installa anche cron, logrotate, e i file man.
1 febbraio 2022 Roberto Puzzanghera 4 commenti
Roundcube è una webmail avanzata con una bella interfaccia grafica.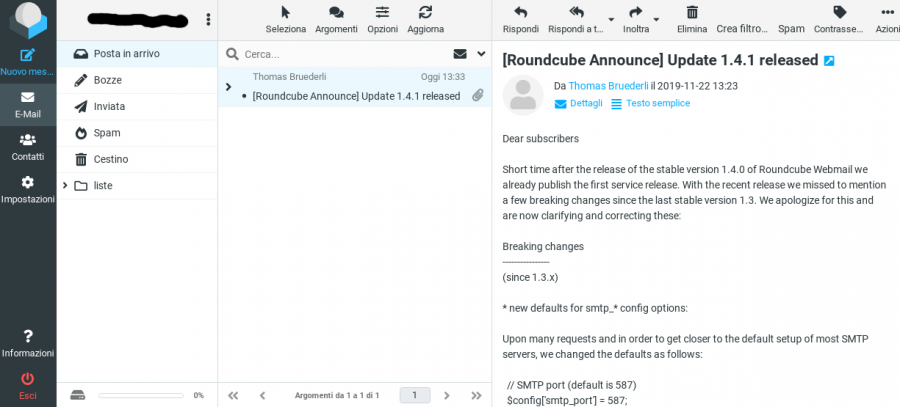 Changelog
Feb 1, 2022
RC upgraded to v. 1.5.2
Gen 3, 2021
disabled the SMTP authentication when sending messages via RC. SMTP port changed to 25.
Aggiornare Roundcube all'ultima versione
Le seguente note per la migrazione questa volta non hanno funzionato nell'aggiornamento da v. 1.5.0 from v. 1.4.11. Lanciando lo script installto.sh ho alcuni errori riguardanti lo schema del database:
ERROR: Error in DDL upgrade 2020020101: [1091] Can't DROP 'user_id_fk_cache_index'; check that column/key exists
Questo è stato molto fastidioso perchè ho dovuto creare manualmente tutte le foreign keys basandomi su questa pagina. Ho anche dovuto creare la tabella 'contactgroupmembers', anche se penso che sarebbe stata creata nel caso lo script fosse stato eseguito con successo.
Quest'aktro errore è stato risolto aggiornando mariadb da 10.0 a 10.5
ERROR: Error in DDL upgrade 2020091000: [1709] Index column size too large. The maximum column size is 767 bytes.
Quindi, per quanto concerne questo update, sarebbe forse meglio fare una installazione pulita.
Lascio qui sotto le vecchie note per l'aggiornamento nella speranza che siano nuovamente utili in seguito.
10 maggio 2021 Roberto Puzzanghera 13 commenti
These days I'm forced again to do lessons from remote. My school asked me to refer to Google Meet for the videoconferences and one thing I disliked was the Jam interactive whiteboard, which is completely inadequate for scientific subjects. On the other hand OpenBoard, my favourite board tool that I successfully use with Zoom, seemed not to be recognized as an application to be shared, because it runs fullscreen.
After some googleing I found a patch from this guy (I big thank for his work!) which forces OpenBoard to run in a window, but at the cost of passing a variable at compilation time. I modified the logic of that patch so that a user can set how OpenBoard will run just modifying an option in the config file. The "run windowed" feature is disabled by default, so it will not bother those teachers who are already familiar with the interface, but it can be easily switched on by advanced users.